How will you integrate your data with federal, state, public and private Health Insurance Exchanges (HIX)?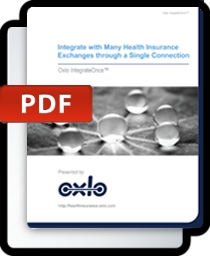 You could perform countless individual protocol and transaction transformations to integrate with each exchange individually. Or, you could connect with Oxlo IntegrateOnce™ and be done.
Oxlo IntegrateOnce™ is an online hub that performs all the integration work necessary to meet the unique requirements of each of your exchange partners.
Download our detailed overview to learn how Oxlo IntegrateOnce™:
Integrates data with many exchange partners through a single connection to Oxlo
Reduces integration timelines
Eliminates additional data integration hardware or software
Includes 24/7 system monitoring and support
Complete the form to the right to download your free copy today!